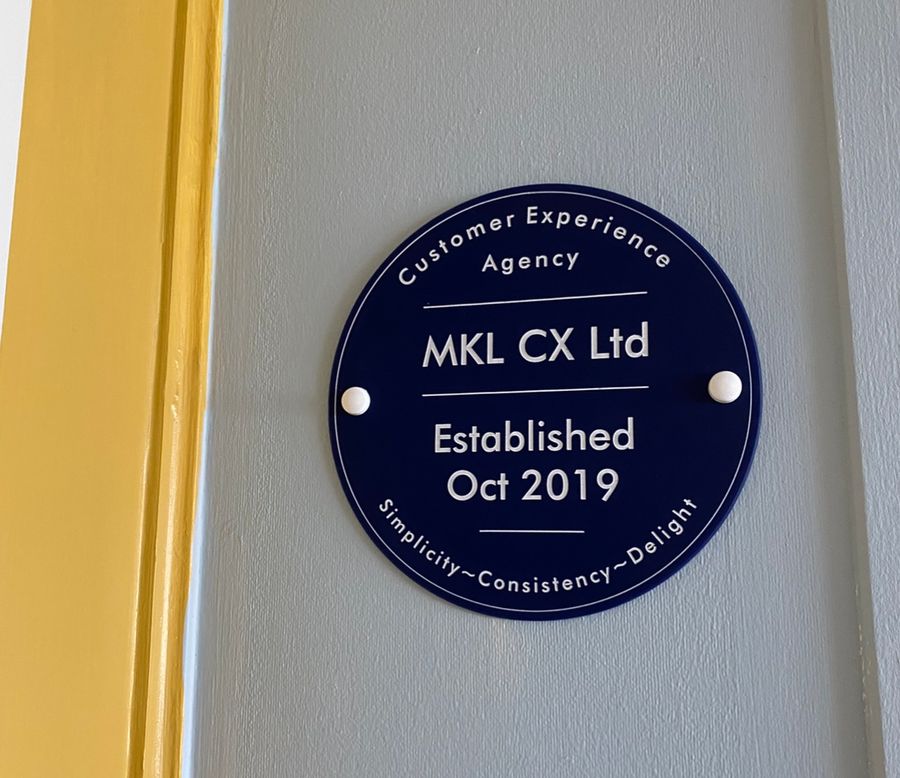 CX thought piece
Author, Sharon Boyd, Chief Customer Officer at MetaB3E - June 22.
We recently ran our six monthly strategic planning session, and reframed our mission. The customer experience element has always been a very prominent aspect - so much so that it has a dedicated arm of our business, making up one third of our business model tripod. And that will remain, in terms of offering; but this time we moved on further.
We came to the decision that we would implement First Customer principles, alongside our already customer centric position. In other words, we'd work hard to capture that feeling, effort, and thought that we have when we have our very first customers. Think back to your first customer, when everything is new and shiny - it's all we think about. We really want that customer to have a good experience. We NEED them to. We go over and above, we check in. We worry about making mistakes, and sometimes second guess ourselves. When we are a more seasoned company, it's easy to coast when it comes to customer satisfaction. To think - well, no one is banging my door down with complaints - so everything must be rosy. I'll focus elsewhere. And let's face it, in a business, there is always so much else to focus on!! And with a volume of customers, it's so much harder to build those relationships in the same way as we do our first ones.
So we've decided that we will be as intentional as possible to live the First Customer mindset. That we will put structures and initiatives in place to ensure this mindset permeates the very fabric of our culture, and is weaved into the core of us at MetaB3E as we scale. As a leadership team, we often talk about the concept of the 100th employee threshold. Of being at the head of the company and meeting someone that works for you, and not knowing who they are. None of us feel comfortable with that - but we do know that if we are going to grow - there will be a point where that will happen. Hence, we need to make sure that the ethos and culture of First Customer, and the huge amount of customer centricity that shapes MetaB3E, stays, however large we grow.
This is not an easy task. Company growth is often not linear. We may need to scale quickly. What we have said on this, is that we will hold each other to account if we feel we are prioritising 'bums on seats' - and potentially risking that customer-driven element by not bringing the right people through our door. We'd rather slow down, than do that.
"When building teams, think special forces, rather than infantry units"

Mark, our MD at MetaB3E.
So, we know that we need to put those structures in place now. I'm talking ensuring that there is a very robust way to ensure that only empathetic, customer centric and can-do people make it through our hiring funnel. That our reward systems reward those matching behaviours, and empower our teams to always do the right thing for the customer, encouraging them to make working with us easy, and to bring elements of delight wherever possible.
"It is crucial to ensure we can 'onboard' each customer and each employee in a seamless, and tailored way - let's start as we mean to go on"

Sharon Boyd, Chief Customer Officer at MetaB3E
I'm also talking about employee experience (EX) structures. We know full well that there is a strong and correlated link between CX and EX. If I have not been paid the correct amount for several months, my boss is horrendous and I feel beaten down and undervalued - that will affect how I feel - the only way that I can deliver outstanding customer experience is if I am super-human or extremely thick skinned/rolling in cash. So making sure that the employee hygiene factors are in place, delivered, and will work at scale is important. It's easy to spot errors at payroll, when there are 25 employees. 25,000 employees? A whole different ball game.
The First Customer Principle very much works with employees too. They need appreciation, support and delight too.
How do we make onboarding with us special? Answer, we treat each human as an individual. Customer OR employee, we get to know them. We understand their basic needs by asking them, then we make sure those are delivered. Once those are in place and delivered seamlessly, we know how they are motivated and can find little ways on top to make sure we deliver delight every now and again - by being intentional about it. This means adding this as a responsibility for someone on the leadership team. It doesn't happen by luck or accident. Recognition of a job well done goes a very long way, and can be as simple as a hand written card.
Customer First
'First Customer' principles must be very prominent. It should be one of the most used phrases in the business. All our processes should be measured against it. It keeps our thinking and behaviours in check - at all levels of the business, and ensures our decision making is guided correctly, in line with our CX core. We really want Facilities Management, and all industries we touch to have complete clarity that fantastic customer experience is a basic deliverable. That it is expected, and that those who don't do it, lose. Let's collectively raise the bar with amazing service!
So - now, let's continue to walk the talk!!!
Team Meta

b3e