Oct 21, 2019
The BUZZ of Celebrations and Celebrities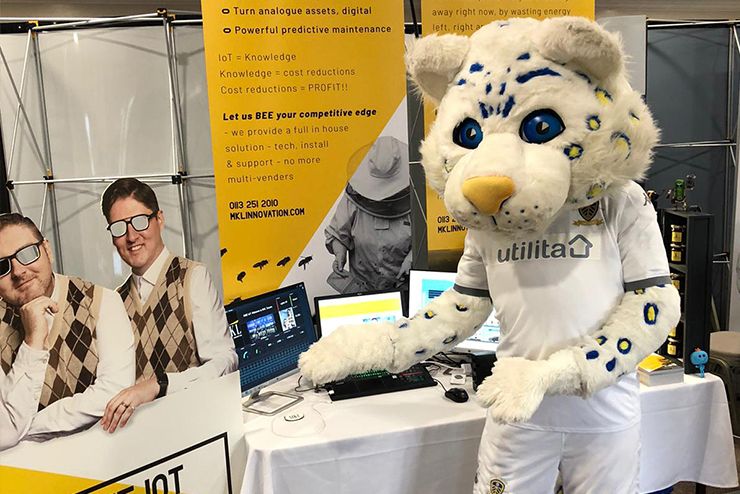 Firstly, and with MUCH singsong and fanfare, we have two new additions to our MetaB3e family! Dave and Kev have both joined us very recently and we could not be more thrilled to have them onboard!! We will share more about our two new celebrities in our next update. A huge northern welcome to the both of you! (By that we mean a bucket of Yorkshire tea and a sugarpuff sandwich on us).
So what's the crack?! Mark (who smashes our marketing!!) trended with #IoT on the LinkedIn platform and then was trolled on twitter for his IoT video on the same day!! Now that is #stardom right there fellas!! Apparently our lovely troller detected a slight sheen on our MD's face, and felt the need to increase our marketing reach by tweeting to our video with his observation, to all his followers as well!! Immense kindness :')
We've had the build-up to the Brand Yorkshire conference, and what a conference it was!! John and Mark went all out on the stand, prepping for months! They had swanky digital name badges, freebies, the sexy dashboard on show, our new branded banners, a bee cake, a top notch gaming laptop (which drew in fellow geeks!), a Parker brother cardboard cutout and our amazing honey factory model which demonstrates the power and user stories of M&E IoT! Oh, and we also had Kop Kat from Leeds United there supporting us… awesome, right?!!
The team loved meeting everyone, we could not have asked for more, but more came; We had queues to our stand and in testament to this, won Best Stand!! What?!! This is our first conference! I need a lie down…! Hulk-smashed.
As well as this, we have been entered for an award with Brand Yorkshire (and are crossing everything, as the announcements are soon!!) please cross everything too, MetaB3e fans!! Oh and we've also just been nominated for New Starter Business of the year 2020 Award with Yorkshire Choice. We really are feeling the love at the moment!! (Though don't be fooled, there is a huge amount of graft that has gone in to get us here, 21-hour exhausting days and drop-everything-and-go call-outs).
Our new branding is very much out there now, along with our binary bee (which Mark describes as our 'spirit animal'!). We now sponsor a queen bee and several worker and drone bees… well who could resist?!! Our little jars of freebie (or should it be free-bee?!) honey flew off our stand.
Why've we picked bees for our branding?!
Bees are workers. Just like us. And not only do they work incredibly hard, they work as a team. Just like us.
They have fantastic leadership, with a common goal and all know their expert roles. Again… just like us… you get the gist!! They also are vital to the community that they live in, and we want to be too, by bringing to our customers exactly what they need, and being a force for good.
Oh yeah, and their colouring looks amazing for branding… black and yellow is the bees knees! 🐝
Some facts about our little champs;
There are more than 270 types of bee in the UK, 35 of them are under threat of extinction.
They fan the honey with their wings to dry and thicken it (this was new to me!)
You've probably heard the saying: 'it's the bees' knees' – No one really knows where the saying comes from, but bees do have knees. Well, sort of. Their legs are made up of six sections connected by joints, so you could say the bees have five knees on each leg! (I bet dancing is fun :'))
Scientists also say sleep is important for bees, it helps them with their sense of direction (ah that's where I'm going wrong!)
Did you know that 'Dumbledore' from Harry Potter, means Bumblebee in Cornish?!
I'll buzz off now and leave you to your day, do check in with us soon… we're all over social media, you can't miss us!
In a bit…
MetaB3e