Nov 1, 2019
Just a standard week at Metab3e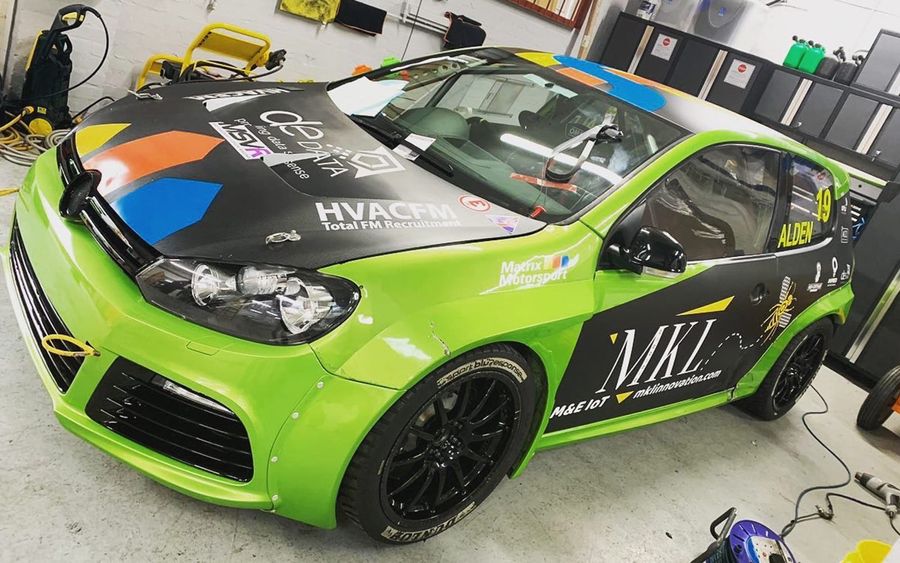 (*decent = Yorkshire tea. We really should be on commission here…)
I'll start by talking you through a bonanza of a week at MetaB3e. This will give you a fair idea of the internal momentum and energy that the team bring the company, every day. It really is exhilarating, exciting and exhausting to watch! Get set for a whistle-stop tour of an actual week in October:
Day 1
Mark and John went to see Matrix Motorsport and signed up as a sponsor for their race car!! As a bit of a petrolhead myself, I cannot tell you how excited I was by this news! I literally told everyone I met for about 48 hours. I know. Bring on the Valium.
The car has since been wrapped and it looks blinkin' gorgeous. A sexy black satin paint job that entices you to stroke it, our beautiful (and badass) binary bee, our brand logo and of course 'M&E IoT', are all now turbo-charged. Mark and Dave went with pride to see it at Oulton Park, on a very wet and wild day. And like everything else that the boys touch; of course the car has won a trophy since it was wrapped… of course!!! Ssssssssmokin'!!!
Day 2
John, Mark and one of their tech partners from Best Technologies were invited to Wates Sustainable Technology Services, where they faced a dragons den panel. 10 panellists! They rocked the pitch and are now an innovation partner! This allows them access to thousands of new clients, fully endorsed by the heavyweight company of Wates (a mere £1.6bn corporation). Wates tweeted to congratulate them, a massive shout out to all 28k of their twitter followers! Jacked!!!
Mark has since been a VIP speaker at Best Partner Conference, where he shared more about the pitch, (Defeating Dragons), MetaB3e's MO (don't be a dck and don't be sht), and the art of being who you are (one of our key values; authenticity). MetaB3e were also nominees for Best Newcomer at the conference, and some pivotal conversations were had that night.
Day 3
The team heard the whopping news that they had been shortlisted for the Brand Yorkshire awards, in not one, but two categories; Best new business and Out of their league.
The team attend the awards night in just a few weeks, and we plan to let our hair down and celebrate (Hopefully with an award or three ;-)) Mark has already offered/threatened/promised to attend wearing little but a medallion around his neck! (I can see an influx of late ticket purchases from all the ladies after that little provocative announcement!! Steamy!!!).
Day 4
More good news; notification that they are Gas Safe accredited, and then smashed a meeting where they landed a significant amount of business direct from a big name client, receiving an excel spreadsheet of jobs that prompted my inner Buzz Lightyear to announce 'To Infinity and beyond!' as I saw John scroll (and scroll and scroll) though it!
Having a tri-sector business (electrical, mechanical and digital) and all the jobs the team have won lately, means no down time over Christmas which is unheard of in this sector, we are just completed stacked. Our 'Riverboat Captain' (experienced maintenance rock 'n' roller) Kev, has been winning work left, right and centre; experience really does pay off, he makes it look like a cinch!!
The mechanical side has skyrocketed since we shared this new side to our business with you. Dave and Mark were out on a rail site in Essex this week, completing some old school mechanical work on the tracks. Mark had a lot of respect for the almost silent, and definitely deadly 600 tonne beasts that shot by so close to him as he worked by the side of the track! There is certainly an element of danger to the role, it is not for the faint hearted!
Last time we proudly mentioned Kev and Dave had joined us, but since then, we've also had the die-hard Leeds fan Ben, join us as our newest engineer. Ben has been getting up to speed with MKL life, working his backside off and doing a great job! Ben loves country music, is moving in with his Mrs very soon, and of course - is a proper Yorkshire man! To keep up, we now have a fleet of 4 vehicles, John's 'passion wagon', has been reincarnated as a spanking new '19 plate, and is lovingly washed and kept spotlessly clean, we are all about standards!!
Day 5
The boys visited 3D printing and packaging companies, excitedly planning for the new product launch that they have been working on so hard behind the scenes.
This is still hush-hush, but it is set to revolutionise the Facilities and Energy Management Sector by using IoT. I am sworn to secrecy but I cannot WAIT to announce more about this when I am allowed to!! It will blow your socks off!! Speaking of socks, John had a slightly awkward moment with a client and socks this week… our teams do meet some interesting people! (What do you call someone who likes to mix and match their socks? Heteosocksual) >Erm… I'll see myself out ;-) <
3 interesting industries that are using 3D printing;
Well I had to pick cars… obvs!!!
Ford is currently using 3D printing to make large selections of its car parts for testing. According to Ford, the company can save up to $493,000 a month of work with this production method.There has even been a 3D printed race car, I wonder how that compares to our sponsored rocket?!
Movies such as IronMan, The Hobbit, Jurassic Park, Avatar, The Muppets, Terminator Salvation, Real Steel and the Avengers, have used this technique to print masks and props.
Space…NASA are planning on using robots to build 3D bases and roads on Mars before astronauts arrive… cool right? I could attach so many links for you to look up on this, but go and get lost in the wormhole that is Google with our blessing!
What should be the first thing that MKL 3D prints? Answers on a postcard… 😋
In a bit,
MetaB3e