Sep 27, 2019
How are your Farmer Giles?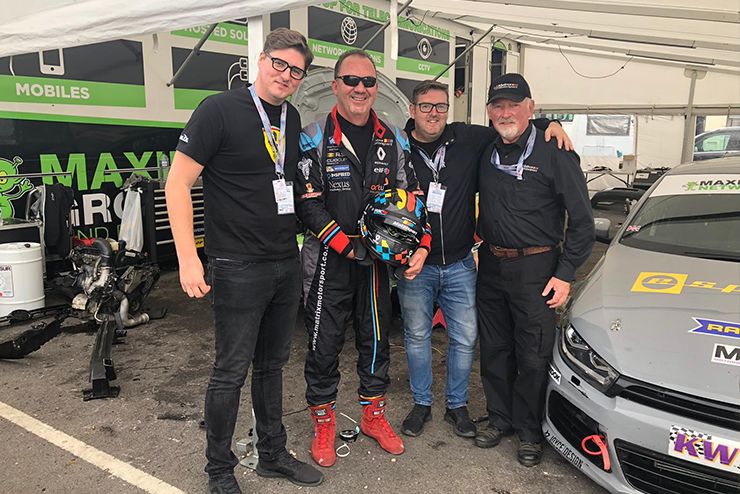 I'd say let's start with the itty-bitty news and ride a crescendo into a place of spectacular news climax - but it's pretty much all arousing material - as per usual!! We don't really do itty-bitty - sorry, not sorry.
The BIG visit to Leeds United happened after becoming digital sponsors!! Pictures of our branded pitch banners and the big screen advert were snapped from all angles, zoomed in and out and analysed in detail - MetaB3e banner bingo - with lots of excited jumping up and down! As the boys were VIP's for the big event, they were able to meet the Leeds United Legends, and just as the press photo was taken, one of Legends said a VERY naughty word which resulted in a fantastic photo, with lots of laughing! The day was proclaimed as the.best.day.ever!!
On the subject of sponsorship - John and Mark swung by Doncaster racing track last weekend, and salivated over all the fast (and vintage) cars, enjoying the (again) VIP hospitality as a thank you from a contact in their network. As well as being digital football sponsors, they now also might be sponsoring a race car! Say whaaaattttt!!!
Both Mark and John are fathers, and their boys have gone back to school, with Mark's 5 year old starting big school!! Much excitement and cooing over posh pictures of his uniform.
We've also all been sharing our MBTI personality types to get to know each other as a team… it looks like we are well set up to take the world by storm, with a whole lot of drive, tenacity, hard work and a healthy dose of swagger - well we could have told you that already - its kinda obvs…
We have our first ever conference on 3rd October, Pavilions Of Harrogate, we are stand 85 - come see us!!! We'd really love to see you all. The boys dropped in to the conference prep meeting, schmoozed the other stall holders and gave their 5 minute pitch with panache (and a bit of gentle slating of each other to keep their audience awake!). Get this - they were recognised for their Leeds United advert by complete strangers - FAME at last!!! It won't be long before we have to pay to be in their presence… (don't worry I will keep them grounded). 😁
As part of the conference prep, Mark has been preparing an MetaB3e model honey factory for the big day! Whilst high on fumes he managed to coat himself from head to toe in MetaB3e brand colours - maybe taking 'living and breathing the brand' a little too far after seeing multiple pictures of limbs sprayed in MetaB3e grey! He could've done with a hosing down… (Calm down, ladies!). Perhaps a hazmat or morph suit will be his secret Santa gift this year… : )
I have to say it looks amazing, and once it is wired up with sensors and lights it will really be able to showcase to our customers what our kit is capable of. Sticking with the theme of honey, we have been churning out our freebie honey pots, pop in and snag one, and do ask the boys about their pet Raptor!
The team have been all over the UK again lately - they shared that they often come across 'dirty protests' in the various services that they have to frequent. It's certainly not all glamour in the life of one of our MetaB3e team! Some days are more poop than whoop!
The new base in Ilford, Essex is now live and is in heavy use - check out our new website details to see the new address, with the new icon - the Kings landing throne! Whilst on our website don't forget to look for our digital Easter eggs! (We clocked that Apple have copied us with Easter eggs of their own lately - well they say copying is a term of flattery, Apple!) The boys have been practising their cockney whilst down 'souf'… Plenty of talk of 'Bristol City' (we'll leave you to look this up) and 'farmer giles'… oh how very 'Carry On'!!
They have also won an order from a FTSE100 company - the team carried out a survey to watch the customer journey and to review the placement of our IoT sensors - what an exciting project! More details to follow when everything is finalised! MetaB3e is really taking off!!
SO okay - we have another colossal announcement - I did mention I would give you a climax - we'll be launching into all things mechanical!! That probably doesn't sound the sexiest news we've ever shared put like that - but for all big property owners, a large part of their headache is the mechanical side - petulant boilers and mercurial air con units, all the building machinery that keeps our worlds running smoothly; until they have a tantrum and breakdown. Well now they'll be able to call out one of our team to repair and maintain all of their property assets - electrical or mechanical - we do it all! Our suave team of boys and girls will meet your every need (well not every - keep it clean, readers!). We are now gearing up our mechanical arm, more about this in due course - though this means the team are busy recruiting, do take a glance at LinkedIn or reach out to us if you are in the market for a swanky new job that is outside the norm! (Maybe ignore my dirty protest note above…we'll only send you to the BEST places - honest!)
So ESSEX?! Well there are different animals down here than in Leeds!! We can't not mention TOWIE, the boys are tempted to get their teeth whitened and swap out their vans to white range rovers! There are apparently more speed cameras per linear mile than anywhere in the world… ah. Maybe don't bring the sponsored race car here, eh boys? Another interesting fact - Chelmsford was once the capital of England for a few days when the seat of Government was temporarily moved to the town 600 years ago. And there have been five US presidents hailed from Essex; George Washington, John Adams, John Quincy Adams, George H. W. Bush and George W. Bush. Seems a perfect place to set up a second base!!
My last favourite fact - Built nearly 40 metres deep into the very heart of the landscape, hidden under an unassuming bungalow in the woods, is the Kelvedon Hatch Secret Nuclear Bunker. The bunker was built from 1952 to 1953 as part of Britain's defence against the growing threat of a nuclear attack. The bunker was designed to safeguard 600 individuals in case of the need to ensure the survival of the population in the face of a nuclear war. We'll be your bunker in times of trouble dear customers - just bell us…